Horseback Riding in Vail, Colorado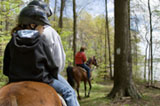 Experience the Vail Valley on horseback. Here you can ride through green, open meadows, wild sagebrush, mountain juniper, and scrub cedar. Enjoy the trickling sound of a mountain creek as it flows through willows, cottonwood trees, and beaver ponds. Take in the breathtaking views of mountain vistas, from the meadows to the snowcapped peaks.
In the Vail Valley, you'll find horseback rides, wagon rides, and dinner rides, all offering fresh, mountain air, beautiful Colorado scenery, and a relaxing experience with family and friends. There is something for everyone, so come on over and stay awhile.